Sirona Cone Beam (CBCT)
3-D Imaging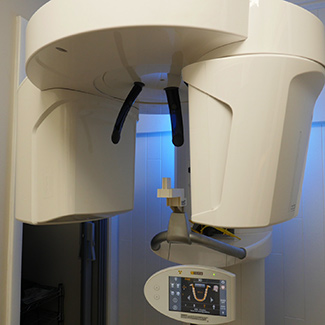 CBCT is dentistry's most accurate imaging technology. It provides the team at Midland Park Family Dentistry the ability to more accurately diagnose dental issues providing more confident solutions for our patients.
So What Exactly is CBCT?
Simply, our Cone Beam is a computer controlled 3-dimensional scanning system operating in an "open-environment". It generates crystal-clear high definition images of a person's teeth, soft tissues, nerve pathways and bone, safely and within seconds. You simply stand in front of the scanner and smile, and it does the rest. CBCT provides Dr. Caramico with detailed images that evaluate diseases of the jaw, dentition, bony structures of the face, nasal cavity and sinuses.
Is the Amount of Radiation Exposure from CBCT Dangerous?
Absolutely not. The amount of radiation exposure from a typical cone beam image is the equivalent of a human living on planet Earth for eight days. Dr. Caramico knows how scary the term "radiation" can be to patients; that is why he has equipped his office with the most advanced low-dose digital imaging in the dental field.
How Does Cone Beam CT Work?
Using a rotating imaging device that moves around the patient's head, the scanner records between 150 and 600 different imaging views in under a minute. Then, a powerful computer processes the information and creates a virtual model of the area. When it's done, the model appears as a three-dimensional image on the computer screen, which can be rotated in any direction, giving Dr. Caramico a view from virtually every angle.
The staff of Midland Park Dentistry are the best. Very caring and easy to work with."
Claudia M.

Sirona Cone Beam Midland Park, Bergen County, Wyckoff, Waldwick NJ | (201) 447-5555