Children's Dentistry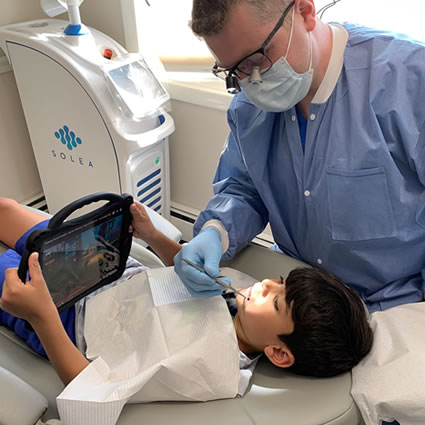 A child's first visit to the dentist should be enjoyable. We make a special effort to make sure children and their parents feel at ease from the moment they arrive at our office.
The American Academy of Pediatric Dentistry Recommends…
Children should visit the dentist by their first birthday. It is important that your child's newly-erupted teeth (erupting at six and 12 months of age) receive proper dental care and benefit from proper oral hygiene habits right from the beginning.
Promoting Early Oral Health
From preventative cleanings to protective dental sealants, our goal is to help your child avoid everyday tooth decay and have a strong smile that will last years into adulthood.
Tooth sealants are recommended because they "seal" the deep grooves in your child's teeth, preventing decay from forming in these hard-to-reach areas. Sealants last for several years, but will be monitored at your child's regular checkups.
As your child becomes familiar with our dental team, we provide them with the information and preventive care that they need to avoid everyday problems like cavities, toothaches and bad breath. We help your child make smart choices about nutrition, home hygiene and habits that affect the development of their teeth.
Call us today to learn more about creating a positive impact on your child's future smile.
My daughter broke her two front permanent teeth at Aftercare and I immediately called Midland Park Family Dentistry. They told us to come right over and fit us into their schedule. Dr. Tony and staff were amazing with my daughter and rebuilt her two teeth in about a 1/2 hour. She is doing great. I cannot say enough about the care, TLC and attention to the urgency this involved. Highly recommend… wonderful with children and adults alike!"
Tracy K.

Children's Dentistry Midland Park, Bergen County, Wyckoff, Waldwick NJ | (201) 447-5555