Dental Crowns With CEREC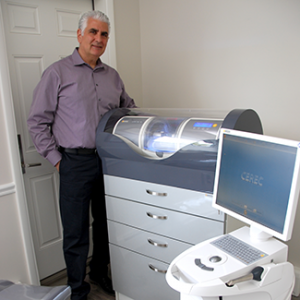 In years past, if you needed to get a dental crown it would require at least two appointments. If something didn't fit, you would have to get a new impression made and wait another two weeks to have the crown remade.
Thanks to CEREC technology, Dr. Caramico can create same-day crowns, eliminating the need for messy impressions, temporaries and multiple office visits. CEREC also allows him to create inlays/onlays, veneers, custom abutments and bridge restoration.
Why Do I Need A Crown?
Crowns are placed over a tooth to restore its shape, strength and size after a root canal is performed, to cover a broken, cracked or weak tooth, to cover an implant, or to "anchor" teeth that support a bridge.
CEREC Crown Benefits Include:
Designed, milled and completed in one visit, no need for temporaries!
Costs less than a lab-produced crown
Achieves greater accuracy of fit compared to traditional messy impressions and stone models
Made from the most durable and life-like materials available today
Excellent long-term studies and results
How CEREC Crowns Work
Using a CEREC camera, we'll take a picture of the affected tooth and of the surrounding teeth and gums and upload it to our computer where it creates a 3D model of your restoration. Then, with the marvels of 3D printing, your crown is milled right in our office before your eyes. From camera to computer to printer, within minutes, your perfectly matched and durable new crown is permanently inserted and your tooth is complete.
With a temporary crown, the patient has to "baby" the tooth and eliminate flossing, which can then lead to sensitivity and tender gums. Since CEREC crowns do not need to be sent to a lab, the cost is less for the patient, than compared to traditional crowns. There are no dark edges often seen with traditional crowns, and the high performance materials behave similar to natural tooth so wearing of the opposing tooth is prevented.
Having been available for over 30 years with over 250 scientific and long-term studies confirming its safety, compatibility and durability, more than 30 million restorations have been completed using this technology.
Amazing how quickly and painlessly Dr. Caramico can make a crown and install. I was in and out within an hour and out at the gym and having lunch right after. Great experience, great staff!" Amy R.

Dental Crowns Midland Park, Bergen County, Wyckoff, Walkwick NJ | (201) 447-5555