Digital Imaging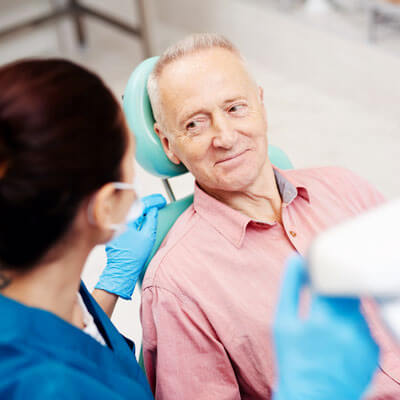 Our office is fully equipped with the most advanced digital dental radiographs (X-rays) with the lowest dose of radiation available. They provide us with the ability to better detect, diagnose, treat and monitor oral conditions and diseases for our patients.
Dental X-rays are taken inside (intraoral) or outside (extraoral) of the mouth.
Intraoral X-Rays
Bitewings get their name from the wing-shaped device that holds the monitor in place while the X-rays are taken. These are taken to check whether decay is between teeth.
Periapical X-rays highlight one-two teeth at a time and show the entire length of the tooth, from crown to root.
Full Mouth Series of X-rays (FMX) includes every tooth from crown to root.
Occlusal X-rays highlight each tooth development and placement in children. These X-rays show the full arch of upper teeth in the upper or lower jaw.
For cavity detection we use the Dexis CariVu to see identify cracks and lesions within each tooth.
Extraoral X-Rays
These types of X-rays provide us with images and information on the jaw and skull. They examine facial bones, impacted teeth, keep track of growth and development and examine the relationship between teeth and jaws.
Panoramic X-rays rotate around the patient's head and captures the entire mouth, including teeth, upper and lower jaws, surrounding structures and tissues in one image.
CBCT generates crystal-clear high definition images of a person's teeth, soft tissues, nerve pathways and bone. We use the Sirona Cone Beam for our CBCT 3D images.
I've been a patient of Dr Tony for as long as I can remember. I wouldn't go anywhere else. Aside from living up to every expectation set, the dental team is warm and welcoming. I recently needed a root canal. I was so nervous until I got to the office. They made me feel so calm. And it didn't hurt one bit, just as promised. I LOVE MY DENTIST!" Lisa B.

Digital Imaging Midland Park, Bergen County, Wyckoff, Walkwick NJ | (201) 447-5555