One Visit Restorative Dentistry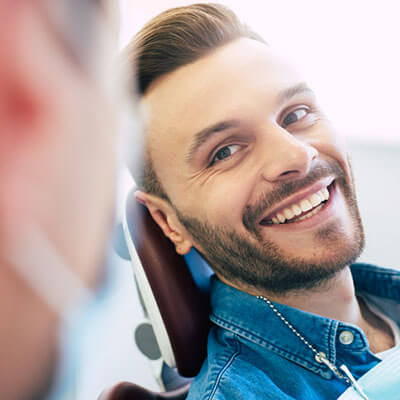 We understand that you have better things to do than have multiple trips to the dentist to get various procedures performed. That's why at Midland Park Family Dentistry, we pair high-quality services with unparalleled convenience. Here's a look at three types of one visit restorative dentistry options to enhance your smile.
Inlays and Onlays
One of the most effective ways to address tooth decay that occurs on the chewing surfaces of your molars is the use of inlays and onlays. These dental restorations can also be used to repair teeth that don't have enough damage to warrant the placement of a crown.
Our same-day inlays and onlays are fabricated in-house using CEREC technology and have a natural-looking appearance that blend in with your other teeth. With proper care, inlays and onlays could last for a decade or more.
Dental Crowns
To get a crown in the past meant at least two visits to the dentist. With advanced CEREC technology, Dr. Caramico can craft same-day crowns. Perhaps best of all, you won't need to have gooey impressions taken or schedule multiple appointments.
Dr. Caramico will take a picture of your affected tooth and the teeth and gums that surround it. He'll use a special CEREC camera, and upload the photo to our computer. From that image, Dr. Caramico will create a 3D model of your restoration. Next, your crown is milled on-site. You can even watch if you'd like! With this state-of-the-art approach, you'll get a beautiful, strong new crown that then will be placed.
Because CEREC crowns don't need to be forwarded to a lab, you can enjoy a more affordable restoration. You also won't see any dark edges that are typically seen with traditional crowns. With proper care, your CEREC crown could last between 10-15 years.
Dental Bridges
If you have one or more missing teeth, a dental bridge fills the gap allowing you to smile confidently. While a bridge doesn't just have aesthetic benefits, it also can prevent your other teeth from shifting out of place. After your bridge is placed, it functions just like your natural teeth. If you practice good oral hygiene and eat healthily, your bridge could last for 10 or more years. Our one visit bridges are created at our practice using CEREC technology.
Schedule Your Appointment Today
Enhance your smile quickly with one visit restorative dentistry. Contact Midland Park Family Dentistry today to schedule an appointment! We are open on Saturdays for your convenience.

Restorative Dentistry Midland Park, Bergen County, Wyckoff, Walkwick NJ | (201) 447-5555