About Midland Park Family Dentistry
Serving Midland Park and the Surrounding Areas Since 1988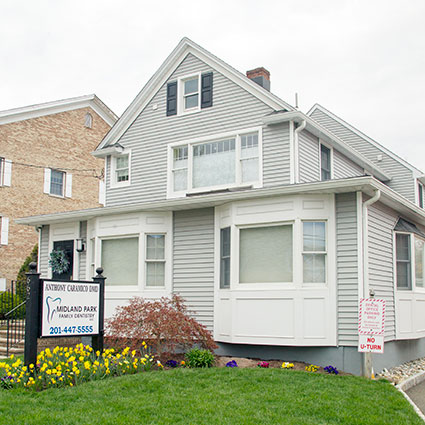 Though we've done some remodeling to our office to make it even more comfortable for our patients, what we haven't changed is the warm and welcoming feeling you'll get when you walk through our doors. We believe that this is just one of the reasons that multiple generations of families have entrusted us to care for their dental needs.
Married with three beautiful children, Dr. Anthony Caramico and his family live just minutes away from the Midland Park Family Dentistry office. While Dr. Tony joined the practice in 1988 as a partner, he's now the principal owner. Since assuming ownership, Dr. Tony has continued to make enhancements to bring patients the most technologically advanced care in a personalized, family-friendly environment.
The most professional courteous and knowledgeable office staff all working as a team under the direction of an excellent dentist Dr Anthony Caramico." Lois P.
Our Difference
Over thirty years of hands-on experience coupled with state of the art technologies and techniques and a warm and relaxing atmosphere, combine to deliver a differentiated patient experience, which we believe is truly second to none.
In many cases, the best thing to offer our patients is advanced dentistry. That's why we implement the latest technology, including:
CEREC (CAD/CAM) technology for same-day, one visit dental crowns.
Solea CO2 Dental Laser for dental fillings without any anesthesia/injections/dental drills.
Dexis CariVu Illumination to "see through" tooth enamel without any radiation involved.
WaveOne Digital Endodontic Tools for efficient root canal treatment.
Cone Beam Computed Tomography (CBCT): generates high definition 3D images of teeth, soft tissues, nerve pathways and bone in a single scan.
High Definition Intraoral Cameras for in depth assessment and information sharing.
Get Started Today
Our dentists can help you enjoy a confident, healthy smile. Contact Midland Park Family Dentistry to schedule an appointment.


About Midland Park Family Dentistry | (201) 447-5555