Preventative Dental Visits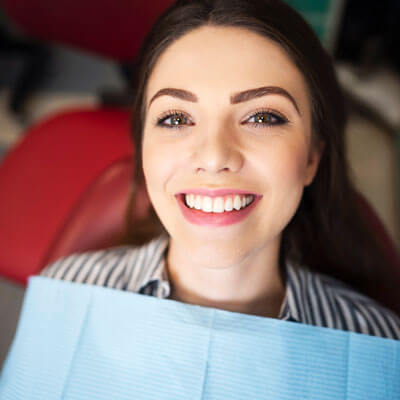 All patients benefit from an individualized and tailored program, as every patient is different. We will assess where you are and the best approach to minimize and prevent any type of dental disease. "We don't subscribe to the cookie-cutter approach of every six months; we individualize treatment for every patient," says Dr. Caramico.
Comprehensive Exams & Prophys (Cleanings)
Preventative dental care is essential to maintaining a healthy smile. During these visits, we will clean your teeth by removing plaque and tartar, and complete a thorough examination of your teeth, gums and other orofacial structures. Dr. Tony will inspect the health of your teeth and the integrity of existing dental work.
Digital X-Rays
If X-rays are necessary, we will take those at this time. Our digital X-rays use reduced radiation levels and allows us to pinpoint areas of concern.
Scale and Root Planing
Scaling and root planing is a non-surgical procedure done to treat periodontal disease. We clean your teeth above and below the gum lines to eliminate plaque buildup, tartar and stains. Having your teeth regularly cleaned helps to prevent periodontal (gum) disease that can cause major dental problems, including loss of teeth. We will also review oral hygiene methods with you that will keep your teeth stronger, longer.
Oral Cancer Screenings
A thorough soft tissue examination will detect changes in the soft tissue lining of the mouth, cheeks, floor of the mouth and tongue. Early diagnosis of precancerous and abnormal tissues is essential for effective treatment, as most oral cancers do not cause symptoms until they are very progressed. We use specialized instruments like our Velscope® for early cancer screening and detection.
Periodontal Assessment
We also perform a periodontal screening to check your gingiva for any sign of gum disease. It is important to detect gum detachment in its earliest stages to achieve the best results, as periodontal disease is the #1 cause of tooth loss. Gingivitis refers to inflammation of the gums due to an excess of plaque on the teeth. Signs of gingivitis include red, swollen gums – or gums that bleed easily when you brush your teeth. By contrast, periodontitis (periodontal disease) has progressed to more serious gum disease involving the bone that holds your teeth.
CONTACT US »

Dr Caramico is the best! He truly cares about his patients. My wife and I absolutely love the staff. My hygienist, Nancy, is also the best. She is gentle and very fun to talk to. I really appreciate how much they take care of you. I highly recommend Midland Park Family Dentistry. Thank you so much!"
Jerome O.

Preventative Dental Visits Midland Park, Bergen County, Wyckoff, Waldwick NJ | (201) 447-5555